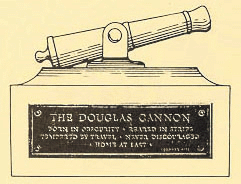 Part 1: Early Days: The Cannon Scrap
Part 2: A New Tradition Emerges
Part 3: Recent Travels
The online version of an exhibition mounted in Olin Library May 23 – September 10, 2000.
All documents in this exhibition are drawn from the collections of Wesleyan University's Special Collections & Archives. Please contact us if you have any comments or questions. Exhibit created by Jeffrey Makala, Processing Archivist/Reference Librarian.